Last reminder to sign up for a subscription that could win you original art and or prints from me.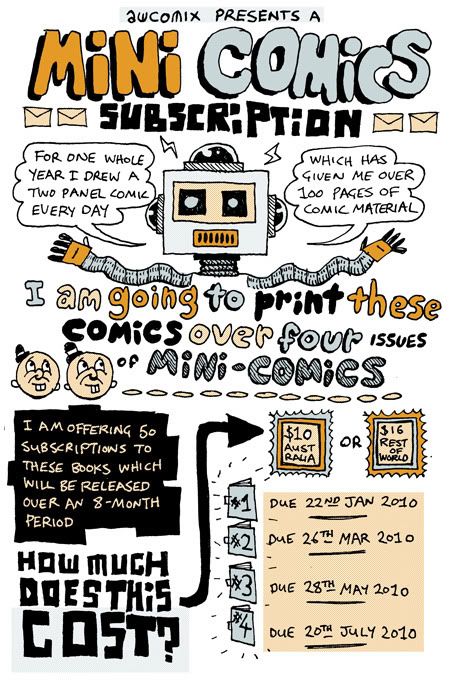 From April 2008 to April 2009 I began a daily comic strip where I would draw two panels about that day every day. Due to my studies this year I had to stop the practice. I have been trying to decide what to do with all the material, which is over 100 pages.
Then a lightening bolt of inspiration hit me. I came up with an idea to publish the comics in serial format and offer them through subscription.
This would consist of,
Four installments of 32 & 24 page B&W A6 zines over 8 months
(bi-monthly) and offering a limited amount of only 50 subscriptions.
A subscription would cost approximately $10 for Australian orders and $16 for the rest of the world.
What your subscription gets you,


Four A6 B&W mini comics, one every two months


First comic will be 32 pages in size


Second, third, and fourth comic will be 24 pages in size


Each issue will be sent out to subscribers before they will be available in stores


Each issue will contain guest artwork


A chance to get extra stuff and win prizes


For those of you who sign up, you will go into the draw to win original art and or get extra things in your subscription package!


One person out of the 50 subscribers will be chosen at random to win some original art by me


The first 5 people to sign up will receive a print with their first issue


The first 20 people to sign up will receive one out of three zines I produced in 2009 as part of their first issue


For those of you in Australia who do not have paypal, I will accept well concealed cash or money order/cheque sent to:
A.W Comix
POBOX 174W
Ballarat, VIC 3350
The idea was inspired/prompted by
Pat Grant's
mini comic of the month which was in turn inspired by
Liz Baillie

Australian ordersRest or the world orders