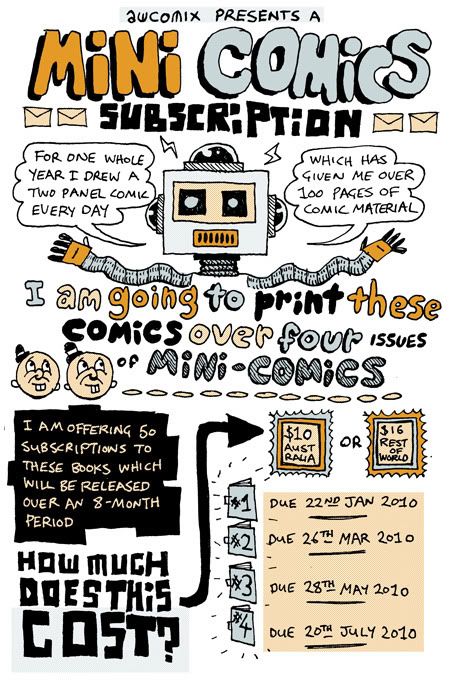 From April 2008 to April 2009 I began a daily comic strip where I would draw two panels about that day every day. Due to my studies this year I had to stop the practice. I have been trying to decide what to do with all the material, which is over 100 pages.
Then a lightening bolt of inspiration hit me. I came up with an idea to publish the comics in serial format and offer them through subscription.
This would consist of,
Four installments of 32 & 24 page B&W A6 zines over 8 months
(bi-monthly) and offering a limited amount of only 50 subscriptions.
A subscription would cost approximately $10 for Australian orders and $16 for the rest of the world.
What your subscription gets you,


Four A6 B&W mini comics, one every two months


First comic will be 32 pages in size


Second, third, and fourth comic will be 24 pages in size


Each issue will be sent out to subscribers before they will be available in stores


Each issue will contain guest artwork


A chance to get extra stuff and win prizes


For those of you who sign up, you will go into the draw to win original art and or get extra things in your subscription package!


One person out of the 50 subscribers will be chosen at random to win some original art by me


The first 5 people to sign up will receive a print with their first issue


The first 20 people to sign up will receive one out of three zines I produced in 2009 as part of their first issue


For those of you in Australia who do not have paypal, I will accept well concealed cash or money order/cheque sent to:
A.W Comix
POBOX 174W
Ballarat, VIC 3350
The idea was inspired/prompted by
Pat Grant's
mini comic of the month which was in turn inspired by
Liz Baillie

Australian ordersRest or the world orders
Last reminder to sign up for a subscription that could win you original art and or prints from me.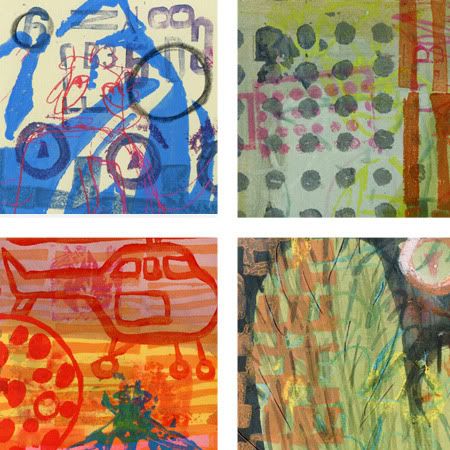 I don't have a big long list of where to get cool things for Christmas but I do have one big fat suggestion, and that is
Cloak & Dagger Art collective
are having their first ever art sale! The online exhibition is called 30 pieces in 30 days, and the collection of work is called the 'Frozen Lobster collection'
You can follow it here on their
Facebook
fan page
or
On their
blog
with the
RSS
of your choice
All works are available on
eBay
starting at only
$19
Australian
(Full disclosure: I'm a member of this group)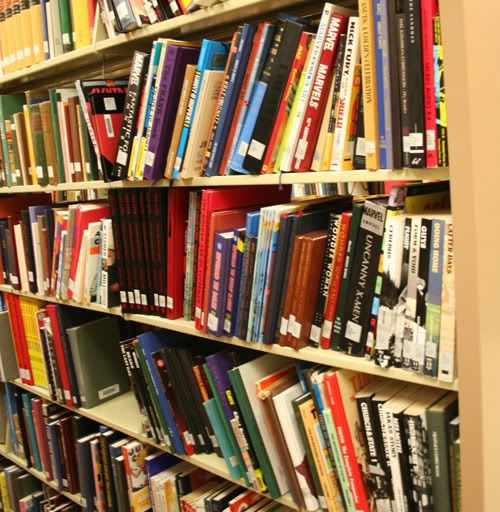 Photo care of
Lincoln-log
on flickr.
I am working on one of my final assignments in which I am developing a classification scheme for comics. I know a couple of other LJ'ers either work in libraries or go/have been to CCS which I am sure would have its own comic library. Can anyone tell me how their comic book collection is put together? Or what they think of my basic order here (the final classification scheme will be a lot more detailed)
I am thinking that a basic order would be this,

-Books on/about comics (history, creators)
-Technical ('how to' or 'all about' type books)
-Comic anthologies and exhibitions
-Actual comics
In the fourth section of actual comics I think it could be further divided by
-Age (keeping the kiddie books away from the adult books, for example)
-Country (keeping the Japanese, French, and Nth American separate, for example)
-Publisher (keeping Dc from Marvel and Fantagraphics from D&Q etc, for example)
Here are a few examples on film making from the wiki page
• The computer animation specialists Pixar sometimes create short animated films that include a proof of concept of a technically difficult task. Their short film Geri's Game (1997) included proofs of concept of the animation of cloth and of human facial expressions. These techniques were later used in the film Toy Story 2 (1999).

• Similarly, in preparation for the creation of the film Finding Nemo (2003), the team created several short proofs of concept to experiment with the animation of water movement, the tentacles of a sea anemone, and the slow appearance of a whale swimming toward the camera from a long distance. These proofs of concept demonstrated ways for the team to accomplish difficult technical tasks, or proved that a particular creative concept "worked" (or didn't work).


I know of comic artist friends who have drawn a few test pages first, and it is often proven to contribute to an excellent end product.
Who else has used a proof of concept for a project?

http://en.wikipedia.org/wiki/Proof_of_concept
Recently I was struggling to explain an idea to a group of people for approval. I tried to explain that I did not want approval for the full project that I was proposing but rather just a pilot/test type project. I then came across this wikipedia entry on the term 'Proof of concept', which i found really useful and appoicable in a number of different ways.
Did I miss something...I thought hourly comic day was in Febuary? We are breaking the time honoured laws of comics people...
Elements of a virtual community of practice
Independence
Each member has their own space that they control, they are not associated with any one group but many different and perhaps overlapping groups.
No obligations
Members are not committed to anything, there is no obligation to participate. They can come and go as it suits.
Interconnected
Members are interconnected through a variety of means
· RSS (bloglines, google reader, etc)
· Message boards
· Wikis
· Fans, friends favourites
· Social networks (twitter, Facebook, myspace etc)
· Emails (group and otherwise)
Support
Members use the VCoP for support, encouragement, advice and general camaraderie. This support helps members continue and ideally improve their practice.
I have been enjoying watching the SPX reports flow in on my friends page and thought I would post some more thoughts on virtual communties of practice. These are just some of my own ideas thoughts up on the subject
He there LJ'ers just wanted to say I still read my friends page and leave the occasional comment. Not many comics from me lately as this year I have been studying to become a librarian.
Anyway a concept that I have been researching for the course recently is the idea of communities of practice
Which got me thinking about how the LJ comics community is such a good example of a community of practice (albeit a virtual one) Which is an exciting thought for me, as here are all these big businesses trying to figure out how to share their knowledge and create these communities of practice when we are all doing it perfectly right here!
The comics community shares it work and ideas, people post tutorials and behind the scenes shots, there's memes and collaboration happening. People commenting on each others work, and so on and so on…
What really makes it exciting too is the fact that a lot of you get to meet up at SPX (or other cons) swap books and have fun times. While you're selling the shit out of your minis and drinking beers with other comic nerds at SPX you can be proud that you're part of an awesome community of practice.
But here's a recent comic for you all,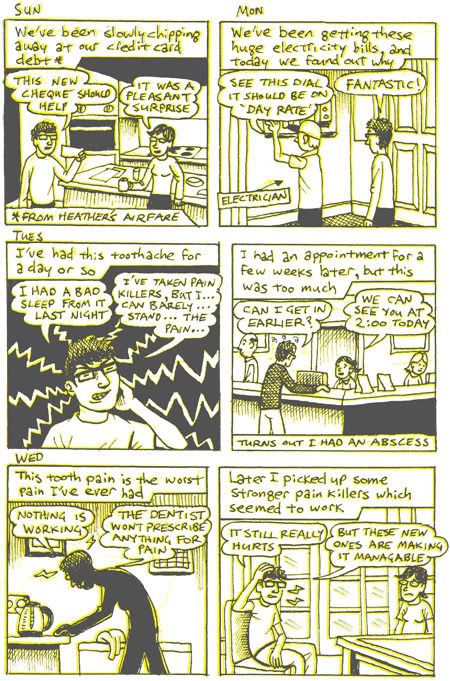 Here's the feed for LJ
http://syndicated.livejournal.com/awcomixrss/
Or you could just use your own feed reader like bloglines or Google
http://www.awcomix.blogspot.com
I also have a Twitter account
http://twitter.com/awcomix
And a facebookfan page
http://www.facebook.com/pages/awcomix/75731880464?ref=ts
Lots of choices for lots of different users ;)
I have had a few people comment about about my absence from LJ which is mainly just me trying to focus on the one blog (in this case blogger) I have been thinking recently about doing a proper website as I know it couldn't hurt.